Sharing
Did you know that  93% of all online experiences start with search engine?
It's vital that you optimize your site to improve your search engine ranking, because people are conducting searches every day. A high search engine position ranking will drive traffic to your website and generate more  leads to your business.
On this blog, we will suggest you 5 ways to improve your search engine ranking. If you need help increasing your search engine ranking, call us today at 6012-334 3029  to speak with a specialist.
1. Publish Relevant Content
Quality content is the main driver of your internet searcher rankings. Create the quality content for your intended user will improve your website authority and relevance, as well as increase site traffic.
Think about how your reader might search for a specific page, then identify and target for the keyword phrase for each page (with phrases like "website design in Penang," "Penang Web Design" or "Penang Digital Marketing"). Repeat those phrases once or twice throughout the page for opening and closing paragraphs, and two to four more times throughout the remaining content.
2. Metadata
When designing your website, each page contains a space between the <head> tags to insert metadata, or information about the contents of your page. If you have a CMS site, the UMC web team will have pre-populated this data for you:
Title metadata is the most important data on the webpage and appears at the top of the browser window.
Description metadata is a textual description of the webpage used by the search engine in the search result. Considering it as your site's window display, write a concise and appealing description that can persuade readers to visit your page.
Keyword metadata includes the main search phrases that are linked to your content or webpage, and should include a variety of related keywords to enable better search results, ideally around 6-8 phrases with 1-4 words each.
3. Optimizing Page Load Speed
Page load speed refers to the time a visitor must wait until your web page is completely loaded. You should make sure that there's as minimal lag as possible for visitor click through your website. Google includes page speed in their search ranking algorithms because it's essential to the user experience (UX). It's helpful if you use a tool like Google PageSpeed Insights to track how fast or slow your site loads for users.
4. Have a link-worthy site
While you focus on creating relevant links within the text, there is one thing you must remember is "click here" has no search engine value beyond the attached URL. Instead of having "click here" links, whereas "Zoeweb Penang Web Design Service" is rich with keywords and will improve your search engine rankings as well as the ranking of the page you are linking to. Always use descriptive link by linking keywords—it not only improves search engine optimization, but also adds value to your readers, including those with disabilities or who are using screen readers.
5. Leveraging Social Media Content
Since social media pages are amongst the top results shown by search engines, the posts are the most interactive ways to engage users with your brand. Therefore, content from social media platforms such as Facebook, Twitter, and LinkedIn fetches huge traction on search engine results page. You can collect and curate a selection of good quality content and post it on the social media pages to drive a successful content marketing campaign.
If you still unsure how to improve your website ranking, let us help you! We are a Penang web design / Penang digital marketing company! Contact 6012-334 3029 (YY LEE) for free consultation!
With 1.5 billion active users, Facebook Ads is one of the best-value online advertising solutions available to promote your business online.
But it's likely that most of the advertisers aren't taking full advantage of the ad strategies. 
Without taking the time to develop and employ a strategy with your Facebook marketing, you may end up throwing money away.
Furthermore, you'll never understand why your campaign returns unsatisfactory results. When it comes to creating a Facebook ads,  it's vital that you understand the strategy. Below we've provided an awesome list of 5 advanced Facebook ad strategies:
1. Use Multi-Product Ads
Facebook Multi-product ads allows you to show multiple products in a single ad. 
What is the advantages of multi product ads?
It gives your customers more options to choose from.

Multi-product ads helps you increase conversions. The more relevant products a customer sees, the greater the chance of them buying.

It can show the different benefits of a single product.
According to Adobe discoverd, their customers has experienced a 50% to 300% increase in click-through-rate (CTR) and more more efficient for cost per acquisition.
2. Build Lookalike Audiences
Another way to increase ecommerce sales is to utilize your customer list. From the long customer list, you can create lookalike audiences in Facebook ads. The more data of customers you have, more accurately you will be able to create your lookalike audience.
These audiences consist of people who resemble your customers, where the smaller lookalike audience has greater similarity with your existing customers and larger ones tend to have more variation.
To create a good lookalike audience, you should make sure that your customer list is perfect by including your repeat customers on the list. And they will help your list be more effective. If your content has worked with your customers, it's likely work with the lookalike audience too.
As the result,You can first showcase your content to your lookalike audience. Later, you can leverage remarketing approach and lead them to your product pages to make the purchase.

3. Upselling to Existing Customers
Upselling to existing customers is a effective way to increase e-commerce sales. You can use the unique manner to segregate your customers, target them to purchase other products and continuously support. When you target a person who has purchased from you multiple times, chances of conversions are greater.
This is because the customer has already formed an opinion about your brand, and has already shown trust in you. These sales are usually easier, and you can just put a lot of effort in retargeting them.
In such cases, you can get a good ROI from your advertising spend. If you have a brand that is established and has a decent consumer base, you can try this. It is especially great for new product launches.
4. Install Conversion Tracking Pixel
A conversion-tracking pixel is a small snippet of code that tracks your customers' behavior on the website. But it does so much more than that.
To track actions that visitors take after clicking on your ad, you'll have to placing a conversion-tracking pixel on your checkout page.
In addition to tracking customer behavior and conversions, Facebook can use the data from conversion pixels to optimize your campaigns and to build a lookalike audience to target your ads.
It's better to install the pixel before your first campaign is running.This way you'll give Facebook time to learn the types of people who are converting into customers on your site even when they come from other marketing channels.
5. Run General Retargeting Campaigns
According to Whispond, 70% of web visitors who are retargeted with display ads are more likely to convert on your site.
The retargetd ads is getting 10 times higher average CTR than standard display ads.
The retargeting campaigns can be run by using Facebook Power Editor to target visitors with promotion, coupons and more.
Yet you're unsure about trying Facebook Ads? Why?
With 1.39 bilion monthly active users, the largest number of ecommerce oders from social media and a typical ROI from Facebook ads at 152%, not advertising on the platform is a missed opportunity.
If you're unsure how to get started with Facebook Advertising, let us help you! We are a Penang website design and online marketing company! Contact 6012-334 3029 (YY LEE) for free consultation!
There are a lot changes every year in terms of popularity with visuals, algorithm updates and best practices for website. Therefore, staying current on website design trends is crucial to the success of your site.
 A website that looks modern and stunning today could look outdated in years time. That's why knowing the trend is so important when designing your website.
 2019 will be all about delivering on user experience: web design trends will prioritize speed and mobile design, eye-catching simple designs with asymmetrical layouts, immersive video backgrounds, and more
1. Mobile First
The mobile-friendly sites is taking priority from desktop sites, and it make mobile first design become a trend. This might not a brand-new trend, but the responsive web design will be on the forefront in web design. So,don't forget to test your sites for responsiveness when you're planning ahead, as well as include navigation aids to give everyone access to your web presence.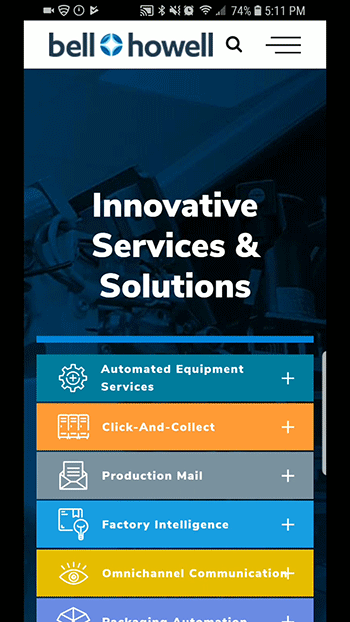 2. Minimal Design
The good user experience is still one of the main focuses for website design in year 2019. Therefore, designers need to create the most usable and attractibe website. One thing that can help designers make an attractive and effective website is apply the minimalist principles into website design. With fewer elements, simplified and minimal design, the layout improving user's interactions.
3. Video Background
In spite of quick loading and minimalist, video backgrounds are still incredibly popular as a trend in 2019. You can see videos are everywhere and it almost feels like photo are so last century. If you think videos could bog down a website too much with speed being such a huge factor this year, then you should think again. Interestingly, video backgrounds have been shown to increase conversions.
4. Speed
How much time does a website have to make a good first impression? 15 seconds? 10 seconds? It's actually less than three second. As our previous article mentioned, nearly half of all users tend to leaving a site that isn't loaded within 3 seconds. This means that your website has to be quicker than speed in 2018 If it is loaded more than 3 seconds. Even you have the most beautiful homepage in the world, but it will end up with nobody seeing it.
Want to keep your website on trend? No problem, we're here to help and answer any questions you may have. Feel free to contact 6012-334 3029 (YY LEE) for free consultation! We are Penang website design / Penang digital marketing company!
Social media is one of the most effective way to reach out to your potential customers. If it's executed correctly, a  social media marketing campaign can bring traffic to your website and generate new leads for your sales team. There are so many options, from Facebook, Twitter, LinkedIn to Youtube, and the list goes on and on. However, you need to have a multi-pronged effort that works to capture people's attention, while also advertising to them in a value-based way. If not, your social media marketing might not work! Here are some reasons why your social media strategy might not be working for your business.
1. Your social channels are overly self-promotional
If you're only sharing self-promotional content on your social media profiles, Facebook will make sure your followers don't see your posts! Most marketers' common mistake is using social channel as free advertising platform, pushing as many promotional messages as possible. In fact, overly promotional leads to decrease engagement of posts. The more your social content engages your prospects, the more likely it is that they move further along the sales cycle to produce a return.
2. You Don't Understand Data
Understanding data is an essential for social media marketing strategy, it's a crucial for fully understand exactly what your efforts are producing. If you can't measure, analyze and react to the data created by your social activities, then all your effort for social media marketing is in vain. To figure out if your social content driving engagement, traffic and sales, you must get familiar with Google Analytics, Facebook Analytics and Facebook Insights.
3. Not Engaged
Your followers and prospects are expecting to get your responds through Facebook page. If you aren't appreciating them and not responding to their questions, then they will go elsewhere. Just treats Facebook messages as email inquiries and get back to them within one business day.
4. You expect immediate results and give up when you don't see any.
Social media is something that requires long-term commitment and careful cultivation. It takes time and effort to maintain and generate returns, and you won't see the quick results from this type of marketing. Persistence and remarkable content is key to success on social media and get the great performance.
5. You Aren't Advertising
Though not every business has a large budget to invest in adverting, but social media advertising is the best way to to reach a targeted group of consumers.We strongly urge brands to pinch off some budget and test social advertising. If you don't, then the social media marketing results might disappointed you.
Need some solutions for your social media marketing? Call us at 6012-334 3029 (YY LEE) for more information. We are Penang website design / Penang digital marketing company !
When you wish to start an online business, having a website is a base and necessary for any business. However, most beginners want to keep their cost as low as possible, hence the website builders that offering some types of free package have become the best choice for them. But this doesn't mean that you can get your domain name or your brand. Here is the reasons why having a free website is a bad idea, and you should avoid it.
1. Not Mobile Friendly
You aren't going to get a responsive website design if you using website builder. The website may look decent on desktop, but it's giving poor user experience when check it out on mobile device.
2. Slow Website Speed
Most of the free website providers are sharing the same server, and you could imagine that there are getting more and more sites joining that one server everyday. This makes for a website that loads at a very slow speed and eventually crashes and down time.
3. Unprofessional web address
You don't even get your own domain name on some website builders. Though some free website builders are offering custom domain names, but they usually come with a fee. A free website will give you a URL like "freewebsite.com", which is  diminishes brand value and you can't expect potential clients are going to contact you to do business from your website.
4. No Analytics or Reports
One of the purposes to having a website is to track visitors' behaviors and preferences. So that you can do re-marketing to your existing or potential customers via online ads. Without analytics or reports from a free website, you simply can't do this. 
5. They can sell your information
The free website builders are providing free services to make money, and one way they make money is selling your information to other companies. This small detail is always mentioned in the terms and conditions, they might get the right to use it at their own discretion wherever they want to.
Creating a good website isn't just throwing a few elements on the page, but built with the user in mind to create a perfect user flow and smooth user experience. This requires a good website structure, SEO technique and professional design. If you're interested to own a professional website, we're here! Call us at 6012-334 3029 (YY LEE) for more information. We are professional Penang website design company!
Your website is representing your business and it's first impression of your potential customers. According to research, 75% of people will judge the quality of your brand based on experience of your website. 
In this ever-changing online world, it's nothing will lasts forever. Therefore,  clinging to an old website because it worked in the past isn't a wise strategy for promoting your business.
A bad and outdated design would impact all aspect of your online marketing from its  search engines to how many conversions you're getting. If you are experiencing the following 5 signs with your website, then it's most likely need a redesign.
1. Your site take a long time to load
 It's important to make sure that your website is optimised to load within three seconds as after that time period users become disinterested and navigate away from your website.
According to surveys done by Akamai and Gomez.com, nearly half of all users tend to leaving a site that isn't loaded within 3 seconds. Worse still, Google has announced that page speed is a ranking factor on mobile. so you may run the risk of losing high ranking if your site's mobile version loads slowly.
2. Your website is not mobile friendly
Nowadays, most of your visitors are accessing your website from a tablet or smartphone, and you just can't afford to ignore them. If your website isn't mobile-friendly or mobile responsive, you will lose many potential customers.
Your website analytics can show you the percentage of visitors that come from mobile devices. If the percentage is large, then you should do priority improvement for your mobile site. If not, it might be because of your website is not responsive for mobile users.
3. Your Competitors have redesign their website
There is another way to judge the design of your website is compare with your competitors. If they've redesigned their site and modern than yous, then you should consider to revamp your website to something more current. This shows to customer that you are not only keeping up with the trends in website, but in industry as well.
4.Your brand, products or service have changed.
The most basic reason to redesign you website is your business has outgrown the website. Your potential customers visit your website to understand the products or service you provided. So, having information is still relevant to your business is very important. A redesign will ensure that your new brand, product, or service is highlighted properly.
5. Your website looks like a THROWBACK TO 90s
If your website that looks like it hasn't been touched since 1990s, then you will find yourself left behind whether in market or ranking. The markets nowadays are incredible competitive, the modern layout and design will attract visitors attention and leave a good impression for them.
Still not sure if you need a redesign website? Let us have a look and we will provide the professional solutions for you. We are professional Penang Web Design company. Call us at 012-334 3029 (YY LEE) for free consultation.