Sharing
There are a lot changes every year in terms of popularity with visuals, algorithm updates and best practices for website. Therefore, staying current on website design trends is crucial to the success of your site.
 A website that looks modern and stunning today could look outdated in years time. That's why knowing the trend is so important when designing your website.
 2019 will be all about delivering on user experience: web design trends will prioritize speed and mobile design, eye-catching simple designs with asymmetrical layouts, immersive video backgrounds, and more
1. Mobile First
The mobile-friendly sites is taking priority from desktop sites, and it make mobile first design become a trend. This might not a brand-new trend, but the responsive web design will be on the forefront in web design. So,don't forget to test your sites for responsiveness when you're planning ahead, as well as include navigation aids to give everyone access to your web presence.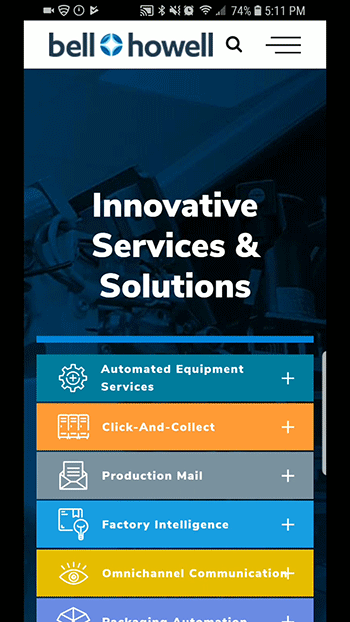 2. Minimal Design
The good user experience is still one of the main focuses for website design in year 2019. Therefore, designers need to create the most usable and attractibe website. One thing that can help designers make an attractive and effective website is apply the minimalist principles into website design. With fewer elements, simplified and minimal design, the layout improving user's interactions.
3. Video Background
In spite of quick loading and minimalist, video backgrounds are still incredibly popular as a trend in 2019. You can see videos are everywhere and it almost feels like photo are so last century. If you think videos could bog down a website too much with speed being such a huge factor this year, then you should think again. Interestingly, video backgrounds have been shown to increase conversions.
4. Speed
How much time does a website have to make a good first impression? 15 seconds? 10 seconds? It's actually less than three second. As our previous article mentioned, nearly half of all users tend to leaving a site that isn't loaded within 3 seconds. This means that your website has to be quicker than speed in 2018 If it is loaded more than 3 seconds. Even you have the most beautiful homepage in the world, but it will end up with nobody seeing it.
Want to keep your website on trend? No problem, we're here to help and answer any questions you may have. Feel free to contact 6012-334 3029 (YY LEE) for free consultation!
Social media is one of the most effective way to reach out to your potential customers. If it's executed correctly, a  social media marketing campaign can bring traffic to your website and generate new leads for your sales team. There are so many options, from Facebook, Twitter, LinkedIn to Youtube, and the list goes on and on. However, you need to have a multi-pronged effort that works to capture people's attention, while also advertising to them in a value-based way. If not, your social media marketing might not work! Here are some reasons why your social media strategy might not be working for your business.
1. Your social channels are overly self-promotional
If you're only sharing self-promotional content on your social media profiles, Facebook will make sure your followers don't see your posts! Most marketers' common mistake is using social channel as free advertising platform, pushing as many promotional messages as possible. In fact, overly promotional leads to decrease engagement of posts. The more your social content engages your prospects, the more likely it is that they move further along the sales cycle to produce a return.
2. You Don't Understand Data
Understanding data is an essential for social media marketing strategy, it's a crucial for fully understand exactly what your efforts are producing. If you can't measure, analyze and react to the data created by your social activities, then all your effort for social media marketing is in vain. To figure out if your social content driving engagement, traffic and sales, you must get familiar with Google Analytics, Facebook Analytics and Facebook Insights.
3. Not Engaged
Your followers and prospects are expecting to get your responds through Facebook page. If you aren't appreciating them and not responding to their questions, then they will go elsewhere. Just treats Facebook messages as email inquiries and get back to them within one business day.
4. You expect immediate results and give up when you don't see any.
Social media is something that requires long-term commitment and careful cultivation. It takes time and effort to maintain and generate returns, and you won't see the quick results from this type of marketing. Persistence and remarkable content is key to success on social media and get the great performance.
5. You Aren't Advertising
Though not every business has a large budget to invest in adverting, but social media advertising is the best way to to reach a targeted group of consumers.We strongly urge brands to pinch off some budget and test social advertising. If you don't, then the social media marketing results might disappointed you.
Need some solutions for your social media marketing? Call us at 6012-334 3029 (YY LEE) for more information.
When you wish to start an online business, having a website is a base and necessary for any business. However, most beginners want to keep their cost as low as possible, hence the website builders that offering some types of free package have become the best choice for them. But this doesn't mean that you can get your domain name or your brand. Here is the reasons why having a free website is a bad idea, and you should avoid it.
1. Not Mobile Friendly
You aren't going to get a responsive website design if you using website builder. The website may look decent on desktop, but it's giving poor user experience when check it out on mobile device.
2. Slow Website Speed
Most of the free website providers are sharing the same server, and you could imagine that there are getting more and more sites joining that one server everyday. This makes for a website that loads at a very slow speed and eventually crashes and down time.
3. Unprofessional web address
You don't even get your own domain name on some website builders. Though some free website builders are offering custom domain names, but they usually come with a fee. A free website will give you a URL like "freewebsite.com", which is  diminishes brand value and you can't expect potential clients are going to contact you to do business from your website.
4. No Analytics or Reports
One of the purposes to having a website is to track visitors' behaviors and preferences. So that you can do re-marketing to your existing or potential customers via online ads. Without analytics or reports from a free website, you simply can't do this. 
5. They can sell your information
The free website builders are providing free services to make money, and one way they make money is selling your information to other companies. This small detail is always mentioned in the terms and conditions, they might get the right to use it at their own discretion wherever they want to.
Creating a good website isn't just throwing a few elements on the page, but built with the user in mind to create a perfect user flow and smooth user experience. This requires a good website structure, SEO technique and professional design. If you're interested to own a professional website, we're here! Call us at 6012-334 3029 (YY LEE) for more information. We are professional Penang website design company!
Your website is representing your business and it's first impression of your potential customers. According to research, 75% of people will judge the quality of your brand based on experience of your website. 
In this ever-changing online world, it's nothing will lasts forever. Therefore,  clinging to an old website because it worked in the past isn't a wise strategy for promoting your business.
A bad and outdated design would impact all aspect of your online marketing from its  search engines to how many conversions you're getting. If you are experiencing the following 5 signs with your website, then it's most likely need a redesign.
1. Your site take a long time to load
 It's important to make sure that your website is optimised to load within three seconds as after that time period users become disinterested and navigate away from your website.
According to surveys done by Akamai and Gomez.com, nearly half of all users tend to leaving a site that isn't loaded within 3 seconds. Worse still, Google has announced that page speed is a ranking factor on mobile. so you may run the risk of losing high ranking if your site's mobile version loads slowly.
2. Your website is not mobile friendly
Nowadays, most of your visitors are accessing your website from a tablet or smartphone, and you just can't afford to ignore them. If your website isn't mobile-friendly or mobile responsive, you will lose many potential customers.
Your website analytics can show you the percentage of visitors that come from mobile devices. If the percentage is large, then you should do priority improvement for your mobile site. If not, it might be because of your website is not responsive for mobile users.
3. Your Competitors have redesign their website
There is another way to judge the design of your website is compare with your competitors. If they've redesigned their site and modern than yous, then you should consider to revamp your website to something more current. This shows to customer that you are not only keeping up with the trends in website, but in industry as well.
4.Your brand, products or service have changed.
The most basic reason to redesign you website is your business has outgrown the website. Your potential customers visit your website to understand the products or service you provided. So, having information is still relevant to your business is very important. A redesign will ensure that your new brand, product, or service is highlighted properly.
5. Your website looks like a THROWBACK TO 90s
If your website that looks like it hasn't been touched since 1990s, then you will find yourself left behind whether in market or ranking. The markets nowadays are incredible competitive, the modern layout and design will attract visitors attention and leave a good impression for them.
Still not sure if you need a redesign website? Let us have a look and we will provide the professional solutions for you. We are professional Penang Web Design company. Call us at 012-334 3029 (YY LEE) for free consultation.
When you start looking for methods to shape your digital marketing plan, you will discover that Pay Per Click (PPC) advertising is the most popular method. That's because Google AdWords help you run the paid advertising campaigns to reach your target audience.
If you want a better advertising campaign that stretch every dollar of your budget, then working with a Google Patner will be the good fit for you.
Here are the advantages of working with a Google Partner Agency:
1.Work with Certified Analysts and Account Managers
Any agency to become a Google partner, they must have certificated staffs that completed all series of exams to managing their clients' accounts. Google will ensure that these certifications are current, so that agency meet Google's standard for best practices in managing Adwords campaigns.
2. Complete Use of AdWords Features
The performance of campaign is affected by the setting and features of AdWords. Google Partners are taking advantages of all the available setting and features to make sure it's profitable to clients.
3. Up to date with the latest Pay-Per-Click information
The digital world is constantly evolving and changing. When you're working with a Google Partner, you're working with a company that is keep up with the latest PPC practices. 
4. Ahead of the competition with Beta Features
Google Partners are able to test and use the new applications or features developed by Google. This mean that you will be gaining the advantage of using these new marketing features before your competitors has access to it.
5. Avoid waiting in-line
As a Google Partner, the agency has a dedicated Google Agency Team who we cannot contact without waiting in line. If your site has a problem with malware or AdWords campaigns are shut down, Google Partners are able to take care the issue immediately.
Zoewebs is certificated Google Partner company, an expert in Google Adwords and Penang web design company as well. If you are interested to working with us, please contact 012-3343029 (YY Lee) for free consultation.
Instagram is rolling out a new feature that lets marketers able to target specific audiences on instagram through Stories. The new feature "Promote for Stories" is being tested globally, which is like facebook "boost" tool to lets marketers pay to reach more user feeds, reported by Tech Crunch.
Through "Promote for Stories", the business pages on Instagram will be able to show their ephemeral story to certain users based on variety of characteristics like location and follower similarity. According to Tech Crunch, Facebook confirmed that it is testing the Instagram Promote feature worldwide, but the exact time frame of the launch is not yet confirmed.
On the other side, this means for most users will see more targeted advertisement in stories based on their interests and the accounts they have followed. For instance, you might see a higher concentration of fashion ads in Stories if you follow a lot of fashion accounts.
In the series of these updates, Instagram also announced that IGTV content creators can now share a preview of their video to their Story. What interestingly is the preview will be in image. Nevertheless, Instagram seemingly hopes that will boost the traffic to IGTV because the viewers will being enticed by the image and heading to view the video.
Now you can share your favorite IGTV videos to your story. Tap the paper airplane at the bottom of the video you want to share. When friends see your story, they can tap the preview to watch the whole video in IGTV. pic.twitter.com/oaatUoOqZY

— Instagram (@instagram) November 1, 2018